SDM236 is particularly developed for Aluminium/FR4 LED PCB strip depaneling.
Three pairs of upper and lower circular blades traverse the V-score with 3 incremental depth. The cutting depth increased for each blade, which minimizes tensile strength both to the Aluminium PCB and components next to the V-score.
Features
Specifications
Download
Video
Accessories
SDM236 PCB Depeneler for LED PCBs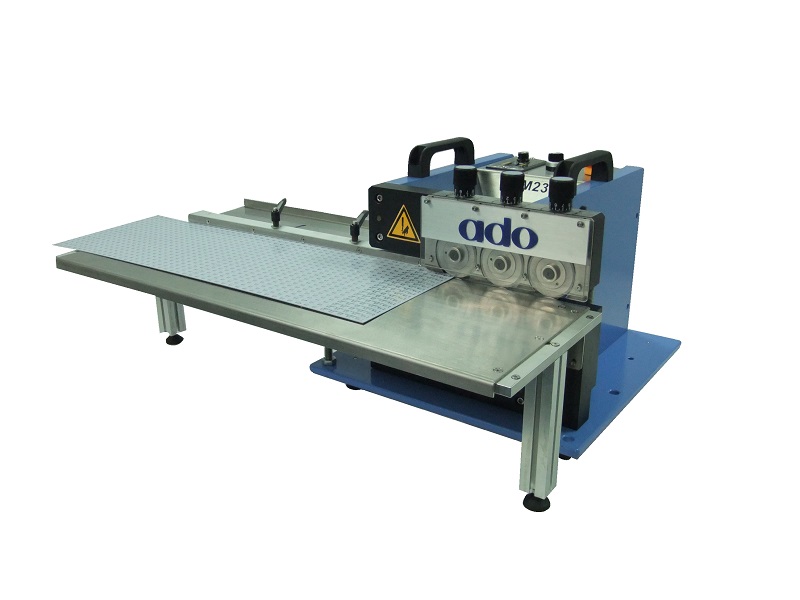 • The PCB depaneling is accomplished by 3-level height upper and lower circular blades.

• Each upper blades cutting height can be adjusted precisely to ensure the PCB does not bend, twist and deform.

• Upper clearance is 15mm from the platform

• No maximum PCB length

• Input voltage 110V/60Hz 2A or 220V/50Hz 1A selectable

• Stainless steel loading (0.8M) and unloading platform (1.2 M)

SDM236 Technical Specifications
SDM236 PCB Depeneler for LED PCBs

• PCB thickness: 0.8 to 1.6mm (AL); 0.8 to 3.0mm (FR4)
• Maximum PCB dimension: 55mm wide; unlimited length
• Lower blades driven method: Motor, adjustable speed
• Separating Speed: 0 – 500 mm/s
• Scoring angle: 30° (typical)
• Minimum Component Distance from V-Groove: 2 mm
• Maximum component Height: 15mm from the loading platform
• PCB Materials: Aluminium or FR4

* Base on standard cutting blades

Dimensions Length:
400 x 400 x 330mm (Depaneler); 720 x 370 x 200mm (Loading Platform); 1200 x 370 x 200mm (Unloading platform)
Shipping Weight:
75Kg (net weight 45Kg)
Separation:
AC Motor Driven
Power
220v 50Hz / 110V 60Hz(Factory preset)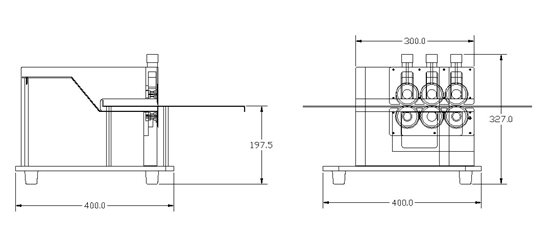 Being compiled, please look at the next!